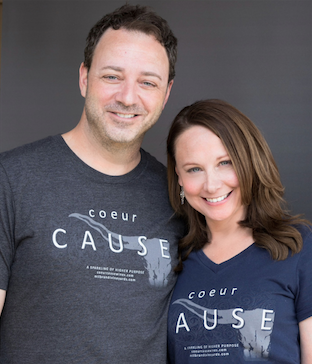 Stacy Thornton Bellew is the founder and owner of Coeur Cause®, a charitable wine and marketing platform that identifies some of the nation's best wine producers. Connecting her established relationships with national charities, she and her husband David Standerford produce exclusive bottlings for those charities, raising funds for their missions. Her wines have raised money for the Alzheimer's Association®, along with various children's art programs. Stacy's mom was diagnosed with dementia several years ago, inspiring her to launch the brand.

Stacy worked in politics for over a decade working with nonprofits on issues from after-school programs to animal welfare before venturing into the wine industry. Her tenure with Los Angeles City Councilman Tony Cardenas (now Congressman Cardenas) resulted in LA's very first Animal Cruelty Task Force and improvements in affordable housing for veterans. She worked with community-driven second chance programs like Homeboy Industries, Homegirl Café, and several gang intervention initiatives. She has worked in the wine industry for over 15 years in both California and Washington.


Coeur Cause® is an owned and registered trademark of Ceremony Cellars LLC – a 100% woman-owned business.

We are interested in working with those who give back. If you are interested in participating on any level, please contact us: [email protected]
OUR WINEMAKER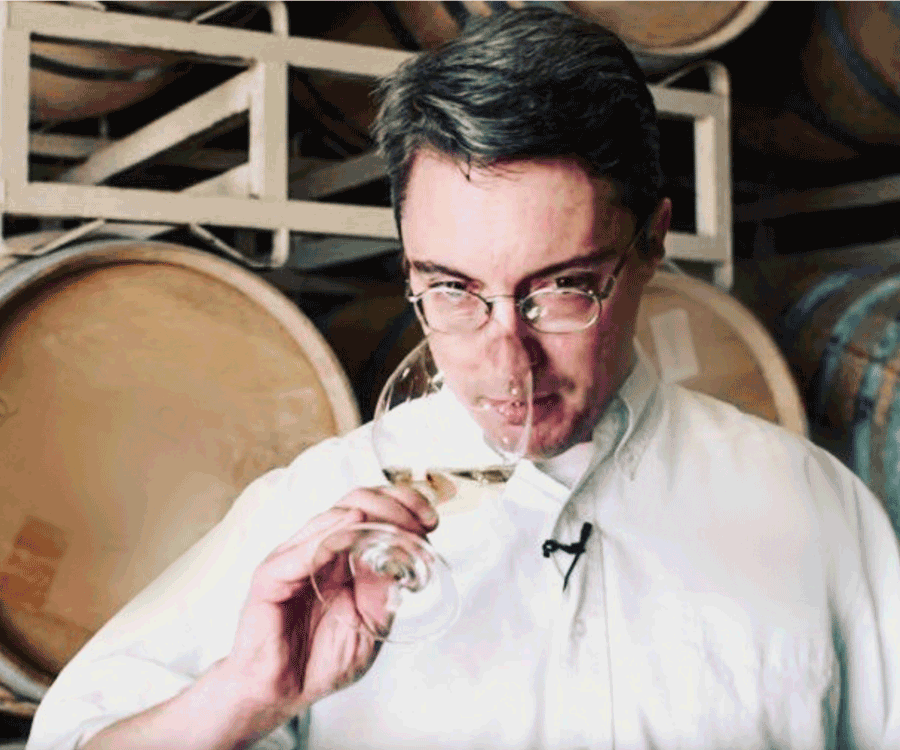 Winemaker Joshua Maloney has a degree in chemistry from Cornell. He started out in the industry as an assistant winemaker at Heron Hill Winery, in New York's Finger Lakes region. His next stop was Napa and Stag's Leap Wine Cellars. Later, he moved on to Chateau Ste. Michelle as red winemaker. Now as a consultant, his name is synonymous with 90-plus scores and intriguing single-vineyard projects like his own Maloney line. We are lucky to have him!
OUR WINES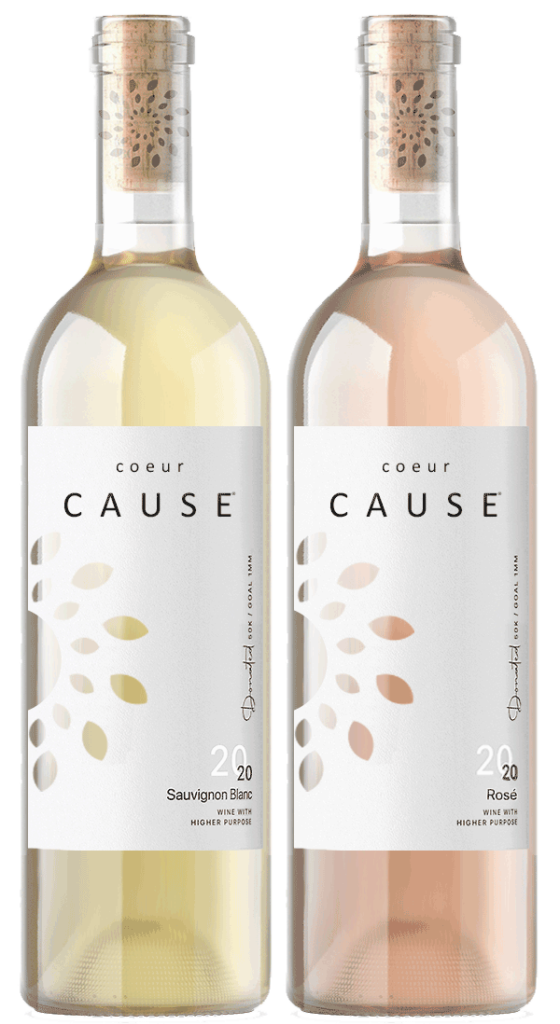 In the Coeur Cause portfolio, you will find three tiers. The first series consists of wines that include Chardonnay, Rosé, and softer red blends. The Signature Coeur Cause series consists of wines of designate Malbec, Cabernet Sauvignon, Tempranillo, and a Rhone blend. Our sparkling series produces effervescent brut wines of distinctive varietals.
By partnering with local premium growers and winemakers, our wines reflect a higher purpose of uncompromising quality. These local partnerships allow us to highlight not only our own charitable pursuits, but also our growers' community-driven causes, creating a seamless mission from the vine to the bottle. Our wines are produced with these missions in mind at the front-end. Our tasting rooms will become gathering places for passionate wine lovers AND awareness platforms for the charitable quests our bottles stand behind.
CONSCIOUSLY PRODUCED We use lighter-weight claret bottles for ALL our varietals to help cut down on our environmental impact. To further alleviate our environmental footprint, we will NOT be using foil on the top of the bottles over the corks. This means the cork will be seen and illuminated through the tops of the bottles and stamped with a signature design.
HOW IT WORKS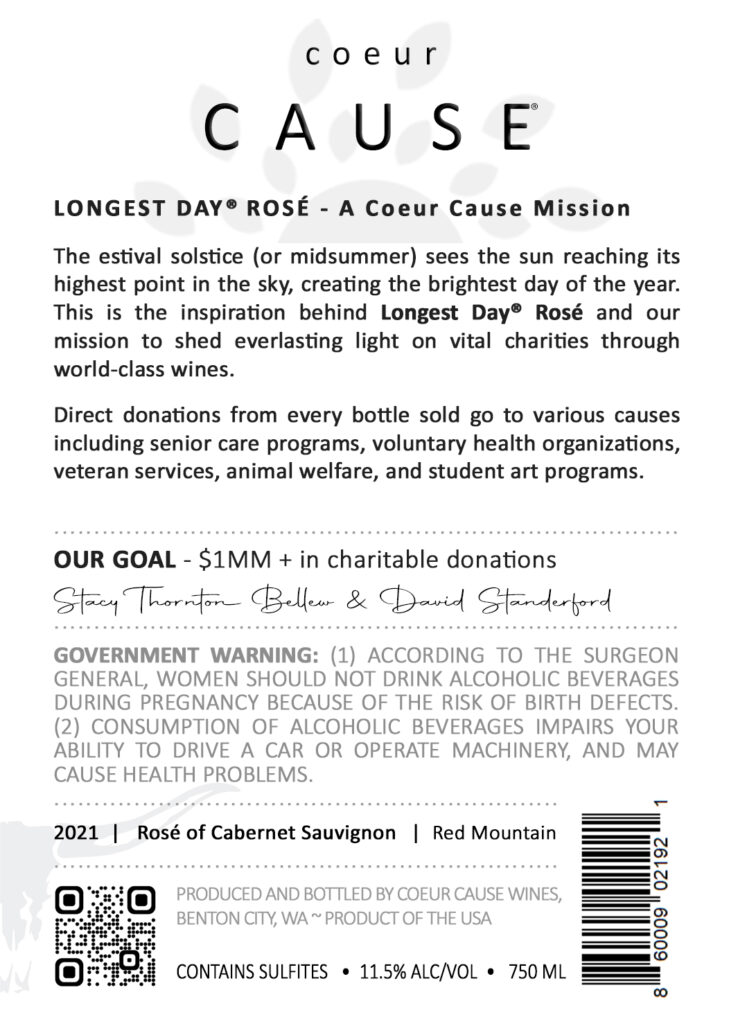 TOGETHER WE CAN MAKE A DIFFERENCE.
Label: Charity, Wine Producer, and Supplier all come together on the Coeur Cause® label to create awareness and raise funds for the charity.
Marketing: Charity, Wine Producer, and Supplier all come together on press releases, magazine placement, social media, and e-mail campaigns. We have held press events that have included members of congress, and have had local television news and newspaper coverage. See our Press page.
Sales: Wine sales are generated through direct website, social media campaigns, and in sponsored tasting rooms.
Events: We host charity specific events during several weekends throughout the year. The wine is paired with food and offered to club members and customers. Charity representatives are onsite to provide information directly to our customers. Additionally we will coordinate at least 2 exclusive red carpet galas a year raising even more funds for national missions. We will participate at events put on by your charity, whether it's having a booth, or providing the wine to pour at your fundraising event.
A few of our production partners:
We align our business needs with vendors and suppliers that participate in giving back to their communities. We work with small and large businesses alike. These companies joined together to make a difference.